Sponsors
At East Ringwood Junior Football Club, we are very proud of the welcoming environment that we provide for around 450 boys and girls and their families.
With 16 boys and 5 girls teams to get on the park each Sunday throughout the season, making sure all of our kids can make the most of their junior football experience always presents it's fair share of challenges.
Challenges that we always meet head on and results we couldn't achieve without the help and commitment of all our valued sponsors.
It is so very much appreciated and with such a broad membership we can offer far reaching exposure for you and your business.
From electronic scoreboard, website and social media exposure to coaches polo shirts and ground signage, we have a package to suit all needs and budgets.
We will also issue invitations to certain events and functions throughout the season to promote your business and give us an opportunity to express our appreciation.
For all enquiries and to view a prospectus on how you can get involved as a valued ERJFC partner, please contact me on 0407 055 351.
Andrew Broadhurst.
President,
East Ringwood Junior Football Club.
2020 Sponsors
East Ringwood Junior Football Club wish to thank all our generous sponsors for their ongoing support!
Click on the logos for more information
---
McDonalds Croydon
An experience where you're at the heart of everything.
---
Independent Filter Service P/L is a second generation family owned business that celebrated its 37th year in business during March 2013.  Our office and factory is located at a company owned premises located approximately 12 kilometres north of Melbourne's CBD in Heidelberg West.
The company's founding director, Dale Griffiths, has been involved in this industry for over 50 years.  Dale worked with the first company to engage in filter service in this country.
Steve Griffiths has continued to expand the family owned business and leads a professional team that prides itself on providing prompt and specialised service delivery.
Independent Filter Service P/L forms part of the Australia Wide Filter Association (AWFA) which also comprises members from New South Wales, Queensland, South Australia and Western Australia.
---
Selling your home can often see like a daunting process, with a number of different aspects involved.  When engaging Rob Burton and Fletchers to handle the sale of your most important asset, the support you receive us from an entire team of professionals.
Rod often works closely with Nicole Freene.  They both have specific roles and as a team, they are able to provide their clients with award-winning levels of service.  Their entire team look forward to being of assistance to you throughout the sale of your home and beyond.
Contact Rod and his team today to arrange a complimentary market appraisal; they would love to catch up to see how they can help to make 2019 a really rear property year for you!
---
We believe successful customers and successful communities create a successful bank – in that order.  As we work to provide banking products and services for our customers, we consider the bigger picture.  We think about what we can do beyond banking to help our customers and strengthen the communities they live in.
We've created a number of unique partnerships and services which enable us to do this.  To find out more visit:
First and foremost, we're a good bank. But it's the time and effort we spend innovating in the community that makes us unique and sets us apart.  It's why so many people choose to bank with us.
---

Here at Ringwood Auto Tech it will quickly become obvious we value our customers, we consider our service to you doesn't end as you leave with your car.
We are committed to building long term relationships with our customers and their family. We aim to ensure we offer peace of mind to all our customers in knowing we are always available. That means we will welcome your call to assist should you ever find yourself needing help.
Our team is committed to excellence, in providing high-quality customer service and superior mechanical workmanship, ensuring our customers always receive the very best in automotive care.
The Ringwood Auto Tech workshop is widely acknowledged as one of the most professional, well equipped independent automotive workshop in the Ringwood area.
Our client's satisfaction is our number one priority, and we treat each and every car as if it were our own.
Become part of the Ringwood Auto Tech family today !
www.ringwoodautotech.com.au          2 Argent Pl Ringwood 3134        9873 4700
---
A-Grade Club Supplies is an Australian owned business and has been in operation since 1990 and services over 300 sporting clubs in addition to individual customers.
A-Grade Club Supplies, supply a vast range of sporting equipment, fundraising & novelty ideas/concepts with a extensive range of trophies to facilitate the requirements of today's sporting clubs.
Our reputation amongst Melbourne based sporting clubs has ensured our rapid growth in recent years and we will endeavor to maintain and develop our range of products and services to expand our customer base.
---
Absolute Surveying P/L has been undertaking land surveying services on major infrastructure projects for the past 16 years. We generally provide land surveying consulting to major companies servicing the design / infrastructure and construction industry within Victoria, NSW, Western Australia and South Australia.
The type of works we undertake include the following
Feature and Level Surveys to determine the existing conditions (from green‐field sites, through to fully built facilities)
Lease Area Surveys
Licensed Title Boundary Definitions and Subdivision
Dilapidation Surveys
Civil engineering Survey set out – Roads / drainage / bridges
Construction set out – piling surveys, in‐ground service location and placement, basement footings, retention walls, positioning of all structural elements and co‐ordination of all survey related activities.
Our services are provided using the latest technology including robotic total stations, digital scanning, GPS receivers and are supported by a full suite of application software and computing and drafting facilities.
We maintain a staff of currently 65+ people with a wide variety of skill sets to service our expanding client base and enable us to undertake a broad scope of Surveying projects
We are currently undertaking major construction projects for the state's leading builders / developers and would like to provide survey services on any size Construction Project.
We maintain a staff of over 65+ and are well placed to achieve the required project timeframes. Absolute Surveying P/L is 'code compliant' as per the DWEER guidelines.
Regards,
Anthony Williams
Director
Ph: (03) 9557 1407
Mob: 0419 345 206
Email: info@absolutesurveying.com.au
---
Funeral Services and After Support Services
Our philosophy at Tobin Brothers is very simple… if it's legal, it's possible,
And we will help you make it happen
So contact Tobin Brothers Funeral Advice Line (24/7) on (9373 7000) to obtain a personalised fee proposal
Ringwood Office: 331 Maroondah Highway Ringwood; Phone: 9870 8011
Head Office 189 Boundary Road North Melbourne 9328 3999
---
KAMA Coffee is a family run business located in Melbourne. We are a sleek, modern and sophisticated  mobile coffee van that comes to you!
​Using premium Brother Basil & Co. coffee beans, T2 teas, KAMA Coffee is able to customise any event to your needs. Any event, big or small – we guarantee to provide delicious coffee, directly to you.
​We serve a variety of beverages, hot or cold, including;
Coffee
Hot Chocolates
ChaiC
Matcha
Decaf
T2 Teas
​
KAMA Coffee is the perfect addition to any event! 
---
Field of View produces professional photography for sports events, specialising in team & action  photography for football, cricket, netball, basketball, soccer and rugby .
We know just when to click.
Field of View capture moments in still images.  We arrange team and individual photos and also shot action during matches/ events. Not forgetting the social functions and presentation ceremonies.
Director, Jo Fairy has taken 1000's of photos over the last decade of her own sons on the sporting fields and the basketball courts, in milestone games and in premierships. Jo is well aware of the exhilaration when capturing these times and creating lifelong memories for generations to be proud of.
The team of photographers at Field of View are locals involved with sporting clubs. We support Community Clubs with sponsorship arrangements and offer different ways of assisting clubs with raising much needed funds or saving $$ on items they require.
Sports clubs are much like families striving to help each other evolve and grow, bringing out the best in one another. And what is a sports club without 'Family' photos to commemorate each team and each year, the achievements, the camaraderie, the fun?
We have a range of products suitable for all budgets, sports club team photos, individual portraits, action photos, collectable cards, posters, honour boards, sponsor appreciation certificates and more.
---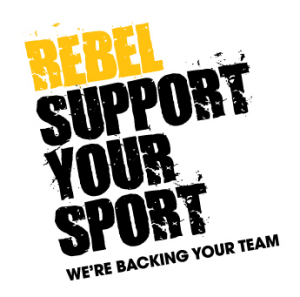 Our club has been selected to participate in the Rebel Support Your Sport Program. Under this program, the club can earn 5% of your purchases at Rebel Sport as instore credit to spend on our sports program.
All you need to do is join Rebel Season Pass, select our club from the list of participating groups and swipe your loyalty card every time you make a purchase at Rebel Sport. You'll receive access to great member prices and other initiatives and the club will receive a 5% credit. Join now in store or online.
---